SEO – Search Engine Optimisation
CreatorSEO – Leading SEO Company Ireland
So what is SEO?
People set up websites so that they can be found when people search the web. Whether they are advertising a product or service or just want to get their brand to be recognised, the key is to get people to find the site.
Search Engine Optimisation (or SEO) is all about getting your web pages to rank on search engines so that people searching the web are more likely to find your site. As most people use Google as their starting point on the web, you can think of SEO as the process of getting websites to appear in the top positions on Google.
Of course this is a gross simplification of what Google is, but if you like in Ireland or anywhere in Europe, the USA and beyond, this is exactly what SEO is to the site owner.
Google generates revenue through adverts on Google search and in order to entice people to place adverts, these occupy the prime positions in Google Search. Therefore, a site owner could get his or her website into the prime position on Google by Paying Google. This payment works on a Pay Per Click (PPC) so the site owner is paying every time someone clicks the link and this can become very expensive.
Organic SEO by contrast costs nothing when your link is clicked. The cost for Organic SEO is the time that it takes to optimise the content and other elements on the web page in order to get the page to Rank on Google.
"SEO is an extremely cost effective way of generating new business to your site. Once your site ranks highly on a Search Engine Results Page, you don't pay for any traffic that arrives at your site from that listing. SEO is a continuous process though; both to maintain rankings and improve rankings for other terms that may bring in relevant traffic." –

eMarketing 101 (quirk.biz)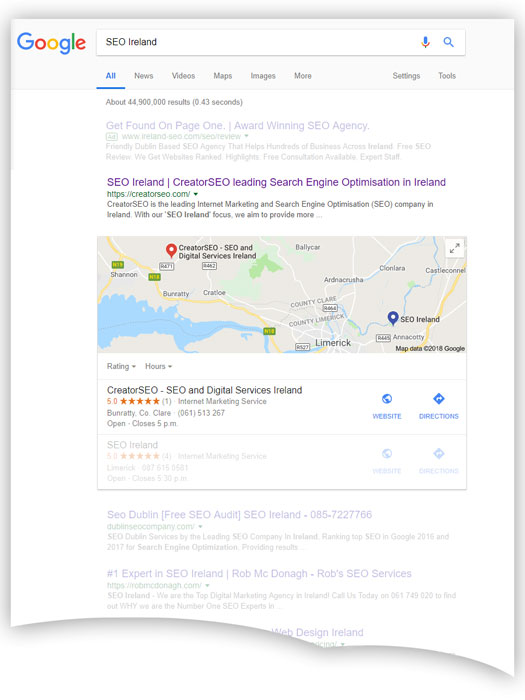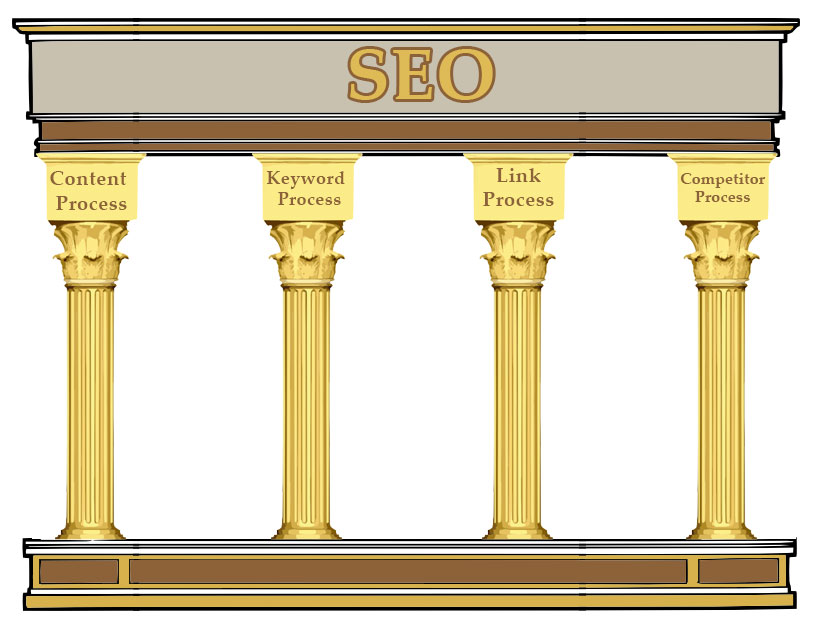 Why use CreatorSEO?
CreatorSEO is one of the many SEO companies in Ireland. The difference is that CreatorSEO are the leading SEO company in Ireland because we have a deep understanding of the technical aspects behind Search Engine Optimisation.
We have taken this knowledge and built it into our SEO software. Such is our commitment to helping people improve their web pages that we have made this SEO software available to all website owners.
In addition to our software, we offer SEO consulting to clients in Ireland to help them achieve the best possible ranking positions and to grow their businesses in Ireland and ultimately to other countries.
This is where SEO becomes quite complex. Google tries to detect which region a site belongs to and then gives sites in a particular country an advantage in the search. This all makes sense for search and ensures that you find products and service that are most relevant to where you are located. However, this make it very difficult for companies to extend their web reach into other countries or regions. CreatorSEO has a strong understanding of what is needed to improve your ranking in other regions and we offer this service to companies that want to grow beyond their physical bounds.
We will help drive traffic to your site and enhance your online reputation.
Our SEO Process and Timeline
CreatorSEO are a Process Driven Company. Our approach to SEO is no exception to this.
The SEO process begins with an audit of the website and the available resources. This is essential in order to better understand what needs to be done to improve the ranking, what the competitor landscape looks like and whether the infrastructure needs to be changed. Baseline measurements also are started at this point.
The next stage is to understand the strategic objectives of the site owners and to develop project road-map.
The question is 'What would success look like?'
This initial audit an planning phase can take between 1 and 3 weeks depending on the complexity of the implementation.
The initial implementation tasks are normally completed within 2 to 3 weeks. Ongoing monthly or bi-monthly SEO activities typically include adding new content and functionality as well as continually building links to the site.
Once the planning is complete, process improvement phase can start and will be managed according to the road-map. Monitoring systems are put in place to ensure that the impact of changes can be measured and reacted to. The road-map may need to be modified or the focus may change during the course of the project but the practice of formalising the process ensures that the end goals are understood and remain the target.
Each project is unique, as are the clients' expectations and requirements. In addition to this the search landscape is different for each industry, product range and region.  It therefore unrealistic to suggest an estimate how long it would take to complete a generic project. While there may be some improvement in ranking in the early stages, goals can take months or even years to be fully realised.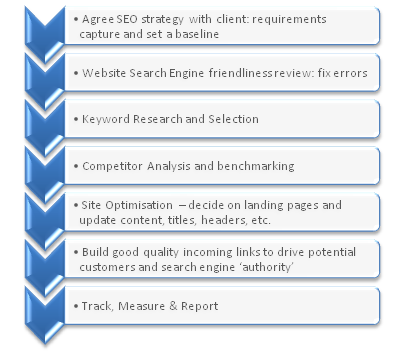 If you don't measure it, you won't be able to improve it.
SEO MADE SIMPLE
SEO Products
Select from our audits, training and consultancy services …