Do you know about segmented keyword research? ….. All professionals who work within digital marketing in one form or another – be they marketing agencies, SEO writers or websites owners will understand the fundamentals of SEO:
It is creating content that aligns with search engine algorithms
Content that provides value to your visitors
And both on-page and off-page optimisation
There are many facets to SEO, but one of the fundamental aspects that have remained is the need for continued, valuable keyword research.
Keyword research allows you to:
See what your competition is ranking for (check out our free seo tools – keyword density checker)
What your customers are searching for
Content that you are missing along with a whole host of possibilities for your clients and business.
Conducting Keyword research:
Many SEO professionals have their methods to gather keywords and long-form phrases that may be of use to their websites. Using tools such as SEMrush and Ahrefs, examining competitor sites, completing SEO audits and outsourcing keyword research are all methods used to gather keywords.
These huge lists of insights and potential keywords are of some use, but what SEO experts need to do is segment such information into valuable, easy to digest information.
Why Segmented Keyword Research?
Segmented keyword research / clusters make the processing of data easier. Well organised and arranged segmented keywords can provide more valuable information such as search volume to ranking possibilities.
Compiled lists of potential search terms without relevant information and understanding will lead to useless content and time-wasting.
Why Segmentation is useful?
Segmenting your data allows you to target specific keyword groups that you have a high possibility to rank for.
Your messaging and content can be geared towards the most valuable areas and where you will receive the highest ROI.
Content created around segmented lists can act as Pillar Content. i.e., language schools located in Dublin rather than Language schools located across Ireland, being more targeted allows you to capture the right audience.·      Should you be a freelance SEO expert such as a copywriter, you can use a segmented list to highlight shortfalls in client content. Allowing you to craft messaging and content to fill these gaps.
Segmented lists also highlight possible service and product needs for your business, does your competition provide services that your potential audience are searching for, can you also provide these services?
SEO experts can use segments to provide different marketing strategies such as PPC and other advertising methods.
How does Keyword Segmentation Work for Your Content?
Keyword segmentation involves analysing search terms and queries, gathering information related to potential search terms and grouping this information together into understandable and actionable information.
For SEO experts this means grouping together a large number of similar search queries, such as:
Baking + Company + Ireland
Baking + Company + Dublin
Baking + Company + New etc, etc.
By defining the different search queries, it is possible to use tools and strategies that allow you to create detailed compiled lists on the most useful keywords for your business.
With this information, SEO experts can create content that targets the most beneficial keywords across a variety of media from blogs to articles and product reviews etc.
By having your keywords grouped and segmented you can effectively roll out your SEO strategy and target specific groups and audiences with content you know they are searching for.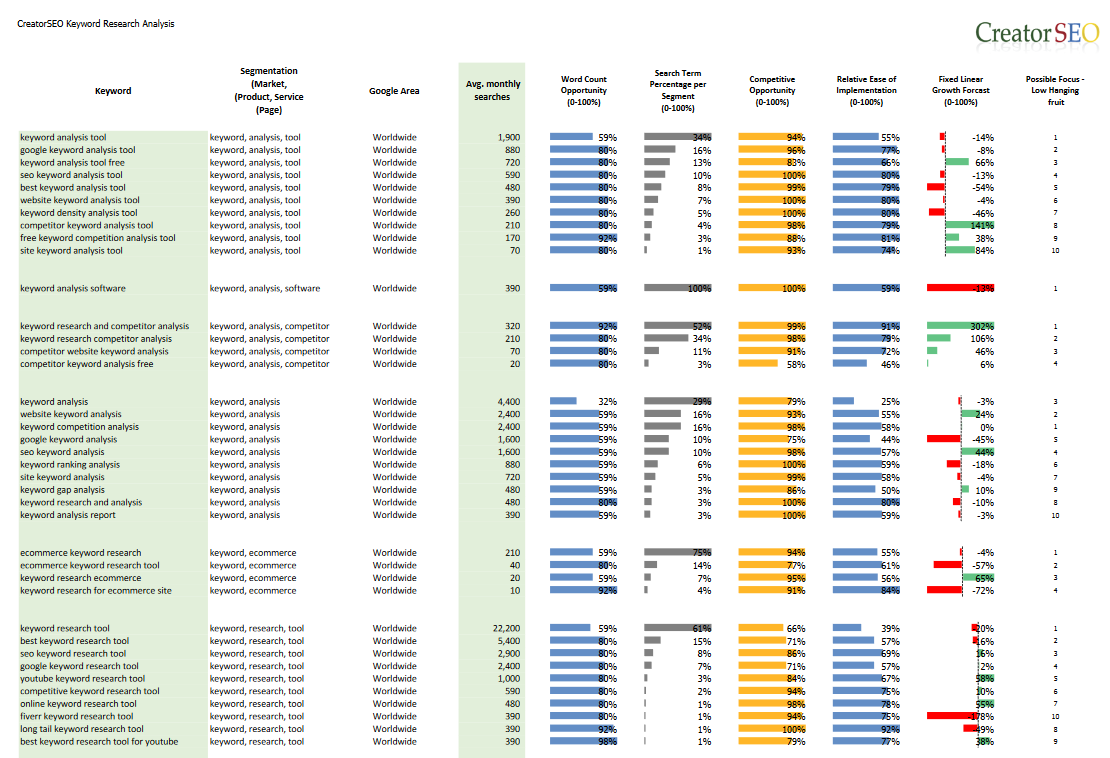 Why CreatorSEO is the best choice for your Keyword Segmentation?
CreatorSEO tools and strategies not only segment your keywords into actionable ranked top 10 lists. We also gather further information including:
Word count conversion opportunity
Competitive opportunity
Fixed linear growth forecast
This information is further broken down into lists segmented by priority, volume and non-fixed information along with a host of additional well organised data that can be used by all SEO experts.
Keyword research and segmentation simply by search query will not be enough. You need to understand the information and its best use and CreatorSEO we do that for you.
How Our Segmentation process works?
There are several ways for us to segment our lists for you. This can also be based on the requirements of site owners, for example, e-commerce stores may segment by product category, Marketing agencies by services and delivery companies by location.
We use your valuable business insights to create extensive keyword lists based on your recommendations and our findings. We examine location settings, suggested keywords, competitor keyword use and our inbuilt research tools.
We work with you to provide the most useful keyword segment insights and go even further by ranking these segments by importance, competition analysis, ranking factor possibility and much more.
Why Use CreatorSEO?
The goal of keyword research and more specifically segmentation is to break down information into useful actionable data points.
This information can be used to group existing content, highlight content shortfalls, allow you to create actionable SEO strategies and produce content that is useful both to your audience and search engines.
Gathering, organising and analysing such data can take an enormous amount of time even for large agencies, let alone solo marketers or business owners.
By using the services and strategies of CreatorSEO you can minimise the time spent collecting and analysing data and focus on creating the content and strategies you need.
We undertake the tedious data collection process and use our inbuilt tools to generate keyword lists and segmented data that can be understood and used by all SEO experts no matter their specific field.
Our data is used by agencies, business owners and freelance professionals to help them improve their SEO strategies.