Guest Post by Simon Dwight Keller
SEO (Search Engine Optimisation) is all about boosting traffic to your site from search engines. It involves a lot of strategies to make your website rank high on the Search Engine Result Pages (SERP's). One of the most important factors in ranking well (through SEO) is picking the right domain name.
In this article, we'll learn what a domain is and why it is so important to choose well.
What Is a Domain Name?
A domain name is like an address dedicated to your website. It is unique, meaning you can't use it for more than one site.
There are free and paid domain names. Each type has its own benefits – a free domain is more budget-friendly while a paid domain looks more professional and credible.
If you want to buy a domain name, you have to go to a domain registrar like Namecheap or, you can purchase a domain as part of your web hosting service, as most web hosting providers offer a free domain for the first year of subscription.
Choosing the right domain name is vital for your website, either as a business or an individual since it will help you to build a stronger online presence in the long run. Here is what you need to consider when choosing a domain name:
● Avoid using complex and difficult names to prevent misspelling;
● Always represent your identity either as a business or an individual;
● The shorter name, the better (if it is available);
● Get it as soon as possible before someone else takes it!
If you need the inspiration to pick the best one for your site, using one of the domain name generators recommended by Hostinger might help.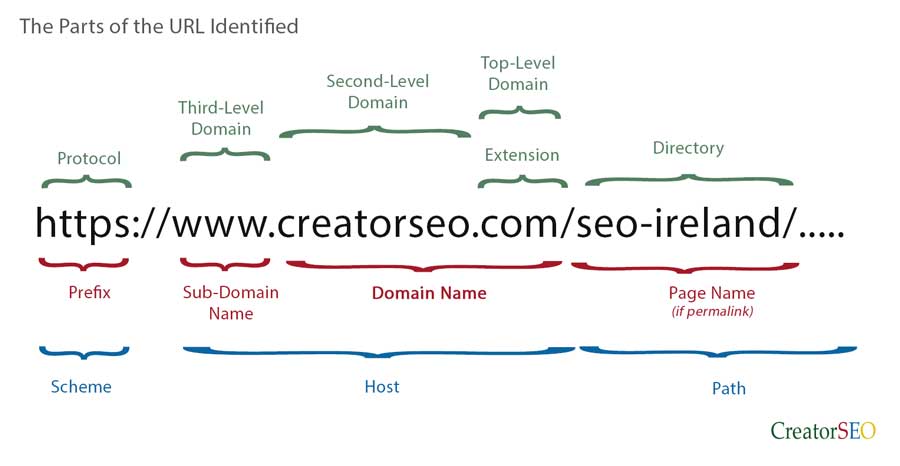 Why Domain Name Is Important to SEO?
SEO helps you to be more visible on search engines. How does it work?
To guarantee the best result, search engines use ranking factors – only the most relevant sites will show on top of SERPs. Because only around 25% of users will browse beyond the first page of SERPs, ranking high is important if you want people to find your pages.
Applying SEO best practices to your site will help you to rank higher on SERPs thus gaining more organic traffic. A good domain name is one of the most important factors that impact SEO. Choosing a poor domain name will only make your SEO efforts more difficult and is likely to harm your website traffic in the long run.
Branding
Because a domain name is one of a kind, you can use it to build your brand. For example, if your business name is Orange Mobile, then  orangemobile.com would be a good domain name for you. Not only will this rank well on your SEO (if you can get that domain), but it also will directly represent your business.
With this kind of branding, you will gain better recognition from your users and attract more potential visitors. And as traffic to your site also is a ranking factor in SEO, your site will rank you higher.
Relevancy
Whenever users search for mobile plans, for example, search engines will show websites pertaining to that specific keyword.
Following on from the example above, if you use orangemobile.com, you'll get a better chance to be among the top results when people search for your company (Orange Mobile). Why? Your domain name contains the keywords users search for. So, the more people go to your site after using mobile plans as a keyword, the better search engines recognize you as a relevant result, ranking you higher.
However, keep in mind that it is not the keyword alone that does the whole job. Your whole website should have content dealing with, in this example, mobile plans too. Otherwise, you will have a high bounce rate – the percentage of how many visitors leave after they land on only one page and this too directly impacts your SEO.
Business or Location-Related Factors
When it comes to choosing a domain, you should look at the .com top-level domain (extension) first. It is popular and the search engines favor it over other domain extensions. Also, after years of conditioning, people think '.com' first
However, if you find that your desired domain name is not available, don't change your name just yet. There are many other options available – .xyz, for example. As an example, Google's holding company, Alphabet, use abc.xyz as their domain name.
If you want a more business-related name, here are some of the alternatives:
.design is great for graphic designers
.inc is more abstract and is used for any type of business
.store is excellent for your online shopping business
.tech is perfect for any technology-related business
.gallery is perfect for artists
Adding to that, you can also use location-based top-level domain names too. If your business operates in or has a target market from a certain country, you can use a country-specific domain, such as .uk for the United Kingdom, .ie for Ireland or .jp for Japan.
Using these alternatives, you can keep your preferred name for branding and help your customers find your website with ease alongside other search result matches.
Conclusion
People always look for information online using search engines and they can recognize poor content very quickly. The higher your site ranks on SERP, the more high-quality traffic you will get. That is why SEO is crucial, and it might take some time to get your head around with it or you may need assistance from an SEO consultant. Either way site optimization is key if you want to rank well on any of the major search engines (like Google or Bing)
Picking the right domain name is vital. It should be short, simple and represent your business well. To recap, here are three reasons why choosing the right domain name is important:
● Branding – to gain better recognition;
● Relevancy – to provide relevant content;
● Business or location-related factors – to fit in specific business and location searches.
Now, you can start thinking about what would be the best domain name for your website. Good luck!