The Best SEO in Ireland for 2018
In order to be the best at any particular field, it is important to identify measures of success and then to understand the competition in order to beat them. Of course, CreatorSEO™ aims to be the Best SEO Company in Ireland in 2019 and therefore we decided to look at the other leading SEO companies in Ireland (including ourselves) during 2018 to decide who has done a great job this past year. The main objective of this exercise from our perspective was to gather insight into our competitors' performance and at the same time identify any new competitors in the area.
The exercise also had a further benefit in that we were forced to decide what makes a great SEO company, how can this performance be measured, how well are we performing and what do we need to do to deserve the title of Best SEO Company in Ireland in 2019.
What makes a good SEO company?
SEO companies don't openly advertise who their clients are and even if they did, it would be a little odd to contact these clients to ask for feedback on their SEO service provider. Therefore, we have no way of directly measuring the level of success that any of these SEO Ireland consultants achieved for their clients. With this in mind, we had to consider slightly different, perhaps less conventional measures for what constitutes SEO success in Ireland. In order to do this, we came up with the following 3 categories:
Performance – how well does the company perform on their own SEO?
Engagement – has the company engaged with the community in Ireland? what SEO information has the company given to the web community in the form of presentations, news, sales information etc?
Technical Ability – can the company claim any technical SEO expertise? have they stretched the boundaries or displayed any good technical expertise or knowledge in the field?
Performance is the easiest measure to get. We decided to ask Google. As SEO is mainly about organic ranking we expect the leading companies to have taken the time to promote themselves and to at least least rank well in Ireland for the keywords that prospective SEO clients may use when looking for an SEO provider.
All SEO consultants should be competing to rank well for the key phrases relevant to their field.
Next we took this refined list of companies and did a search for papers, presentations, news, social interactions or any other good information or engagement that each of these companies may have given to advance SEO in Ireland or to improve the knowledge of other web users in Ireland. This information does not need to be novel or quantitative.
Data (measurement) -> information (interpretation) -> knowledge (progress)
Finally, we assessed the Technical Ability of the company. Now this is a difficulty one to assess and we can only go with the information that is available. We defined technical ability as the application of SEO that extends beyond standard SEO techniques keywords and backlinks. Technical SEO is about extending this knowledge or providing a means of gathering and interpreting information for SEO. The distinction between this and the previous measure is that the information used to measure Technical Ability must be quantitative (or semi-quantitative) and should ideally interpret the data in a novel or innovative way.
Performance: Organic Ranking
Our process for measuring the performance of SEO companies was to start with a selection of key phrases for SEO in Ireland that prospective clients may use to find an SEO company to work with. The list used was as follows:
Best SEO in Ireland
Leading SEO company in Ireland
SEO Cork
SEO Clare
Next we captured the top 20 ranking companies from Google for each key phrase and created a table showing the domain and the ranking position. We then applied a weighting based on this ranking position using the assumption that position 1 is twice as likely to be clicked than position 2 and position 2 is twice as likely to be clicked than position 3 and so on… Finally, we calculated the sum the results for each company and sorted these to find the top 10 companies that display the best organic ranking performance. The higher the number the more prominent the company is in organic search.
Results
Based on the list, 3 of the companies were excluded as they were either rating agencies or were no longer active in Ireland. We therefore were left with the following 7 companies:
Engagement: Articles, Presentations, Information
This measure is about giving back to the community by engaging or showcasing the knowledge of the consultants. There may be sales information included in this in addition to teaching and/or dissemination information to anyone interested in improving their SEO knowledge. The information provided does not need to be novel or even very technical, however the information must be accurate, relevant and plausible.
Blog Posts
Only 2 of the companies in the list had an active Blog that presented SEO articles of general interest and were not for the sole purpose of driving sales. The two websites are:
Active Social Media Presence
The table below summarises the results for each of the top SEO companies listed. An active presence was defined as having at least 3 posts in the past month and is represented by a tick. Having an inactive account was marked by a dash and if no account was found then this was marked by a cross.
A semi-quantitative figure of merit value calculated by assigning a value of 5 to a tick, 1 to a dash and 0 to a cross. The numbers were added together by company and compared to the difference from the overall mean value. The final number can be interpreted as higher is better (negative is not good).
The outcome of this exercise ranks the companies as follows:
Technical Ability
Any sales bumf was discounted in this section. This is about physical evidence that the company has some level of technical expertise. The following would qualify for this area:
White papers, Patents, Articles on SEO that include some form of measurement, ranking or semi-quantitative analysis of factors that influence SEO performance;
Developed software tools for measuring site performance, social engagement, competitor comparison, on-page tag implementation, page errors etc;
SEO Tools
The only company that provides tools for SEO is CreatorSEO. These tools are available as stand-alone performance assessments, WordPress plugins and Paid-for Digital Performance tools. The tools provide:
On Page performance assessment
Readability assessment
Performance tracking
Competitor Monitoring
Backlink evaluation
Social media impact appraisal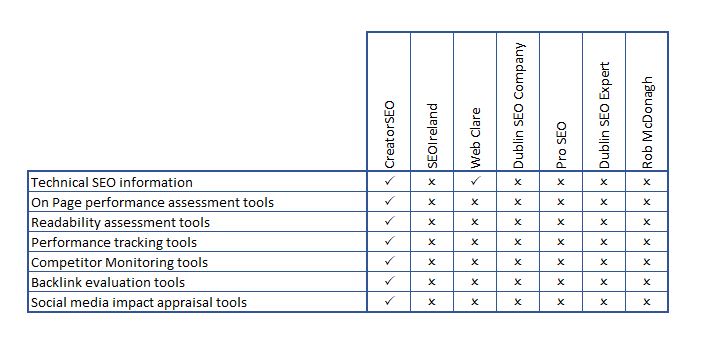 CreatorSEO provides SEO tools as a stand-alone application and a WordPress plugin. The WordPress plugin is available on the WordPress repository and the Client Dashboard is available at https://hub5050.com/.
The Assumptions
It may be argued that the assumptions used in this assessment could be better for instance, did we use the best key phrases, is the weighting correct etc. Well, we had to start somewhere. Next year, with your help, we may be able to refine and improve our approach. We look forward to any proactive suggestions or proposals for the 2019 Best SEO in Ireland assessment.