CreatorSEO™ delivers exceptional internet marketing results while making both process and information transparent for our clients.
Typical Web Metrics / KPI's
CreatorSEO™ (SEO Company in Ireland) will you to help drive traffic to your site and enhance your online reputation or increase your web sales.
Visitor Count
Number of returning visitors / Number of new visitors by day or  week or month.
Pages Viewed
Which are the most popular pages viewed by visitors to your site and how many visitors to the page.
Referring Sources
Identify where the traffic to your site coming from: e.g. Google, Facebook, Twitter, Blogs and so on.
Cost Per Click
Cost Per Click (CPC) monitoring for Paid advertising campaigns. Usually refers to a paid service from Google, Bing, Facebook etc.
Conversion Rates
Number of people that click an advert or a call to action that then become customers. Number sales / prospects tracking for each internet marketing campaign.
Number of Followers
Growth in the number of Followers or Fans or Likes from social media sites like Facebook, LinkedIn or Twitter. This can be tracked over time.
Competitor Performance
Direct comparison of the performance of a web site against a set of known competitors using SERP and other chosen metrics.
Site Speed
Measure of how long a web page takes to load. This is an indicator of how well the site has been optimised and of the infrastructure on which the site is built. Speed has a direct impact on ranking.
Website Analytics and Reporting | Web Analysis
If you don't measure it then you won't improve it
Website analytics and reports can provide actionable insights for your web marketing campaigns. Web analytics data, allows you to measure the effectiveness of your web marketing and identify areas for improvement. Every SEO project should start with a strategy and an agreed set of metrics of measuring the progress of the project against a baseline.
We configure, monitor and provide Google Analytics integration as standard. We augment the Google Analytics results with our in-house developed analytics tools to provide detailed, accurate and meaningful analysis of your website performance and online campaigns.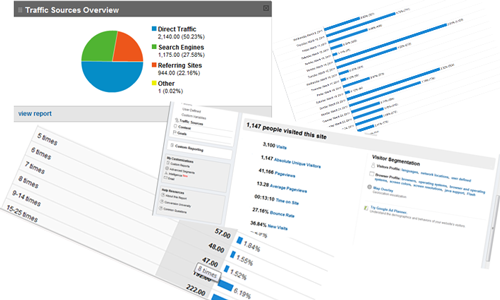 Google Analytics Methodology
Our proven approach to managing Google Analytics for clients is typically broken in to the following steps:
Agree Key performance Indicators (KPI's);
Document KPI's, measures of success, goals and so on;
Set-up / configure of Analyics to display the results through a Google Dashboard;
Train users to get the most out of Analytics information.
Ready to discuss your 
project?
We are really excited to hear from you. Our next steps are simple - just contact our experts below.
During your FREE strategy session:
We will discuss your business and digital marketing goals.
We will advise on a strategy that can be applied to your business.
We will help you understand digital marketing and an have open and honest discussions on what will work for your business.
Some of our customers ....