Social Media is or should be an integral part of any web strategy. In this series will will present a number of Twitter Hacks in a single Blog article to help you to get on Top of Twitter and to make it an integral part of your Web Strategy. We will add to the hacks in this article over time, so keep an eye on this Post for more of the Best Twitter Hacks on the Web.
A little knowledge can go a long way. Take control of your Twitter account with these easy to use Twitter hacks.
Take back control of your Twitter account
Twitter Hack: Shortcuts
Show a list of all Twitter shortcuts
Method: Press Shift ?
Results: A list of Twitter shortcuts will display making making the platform easier and much faster to use. Learning these shortcuts will transform the way that you work with Twitter. For example is you want to respond to a tweet just press 'r' from the keyboard. If you want to page down through your visible list of tweets, just press spacebar.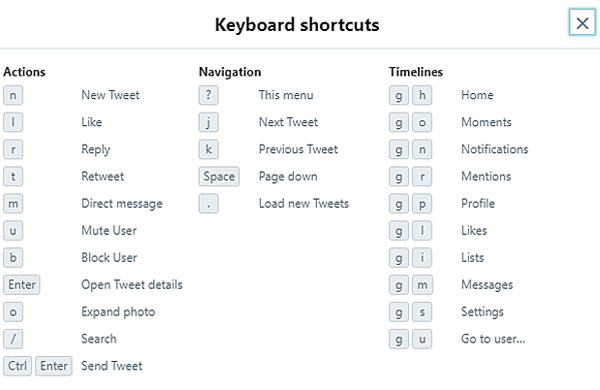 Twitter Hack: Best time to Post
Find the best time to post to Twitter
On Twitter, time is the key. When you post to Twitter the time at which you submit your post determines whether your post will be seen or not and whether you will get like, follows or new leads.
The best time differs according to your target audience and their location.
Method:
Go to https://analytics.twitter.com/ and this will redirect to your logged in Twitter profile
Select the 'Tweets' tab
Press the 'Export Data' button
Save the .csv file to your computer
Open the file (on Excel or some other spreadsheet) and view the 'time' column to identify the most effective time for your tweets
Notes:
The output shows your tweet performance and assumes that you have submitted a number of tweets in the time period. It also assumes that all the tweets deserve equal attention from visitors. This last assumption is not true, and therefore it is best to look at a lot of data to get a good semi-quantitative analysis of the best time to tweet.

Each download only provides data for a month therefore, it is advisable to download a number of time periods and then to combine the spreadsheets.
Results: More views, more likes, more follows, more new leads. What's not to like about this hack?
Twitter Hack: Search Operators
Search Operators for Twitter
Twitter Search Operators can be used to refine and improve searching. Most people search simply by entering a search phrase and then hope for the best when enter is pressed. Unfortunately this approach is unlikely return the results that best meet your actual needs. A little effort understanding the search operators provided by Twitter will have a very big impact on all subsequent searches. This will save time and will allow you to better target people, tweets, news or whatever best meets your requirements.
Example:
Consider searching for the best SEO company in Ireland. The following searches are described
| Search String | Tweets returned… |
| --- | --- |
| best seo in ireland | containing "best" "and "seo" and "in" and "ireland" |
| "best seo ireland' | containing the exact phrase 'best seo in ireland" |
| seo OR digital | containing the words "seo" or "digital" |
| seo -digital | containing "seo" but NOT "digital" |
| #seoireland | containing the hashtag "seoireland" |
| from:creatorseo | sent from the "creatorseo" account |
| to:creatorseo | sent to the "creatorseo" account |
| @creatorseo | mentioning the "creatorseo" account |
| seo filter:images | containing the word "seo" and an image or photo |
There are many more search operators and ways that these can be combined. A more complete list can be found on the Twitter Developer Forum.
An alternative to typing search operators directly into the search field is to use the advance search in Twitter. Select Search Filters, Click 'Show'. The Search Filters will display enter filters in the fields provided or select 'Advanced search' for more filter options.
Twitter Hack: Secret Follows
Privately follow any profiles on Twitter
This hack allows you to follow one or more profiles without those profiles being notified or aware that you are following them.
Method:
Press 'g' then 'i' to view your lists
Press 'Create a New List'
Name your list
Select the private radio-button
Select the people that you will follow on your list
Results: You now will have a list of profiles that you are following in private. Why you may choose to do this is entirely up to you.